COWBOYS & DOOMADGEE
Working together for positive change
As part of its significant and meaningful connection to one of the most far-flung and remote communities within the North Queensland Toyota Cowboys footprint, the club is making its last trip to Doomadgee for the year.
---
With the support of the Queensland Government and Regional Express (REX), the Cowboys will be back in Doomadgee for the fourth time this year to celebrate the achievements of students at Doomadgee State School's awards night.
The Cowboys are proud of their ongoing relationship with the Doomadgee community that focuses on a whole of community approach to improving the lives of its next generation through supported school programs, community initiatives and regular visits.
Located 100km west of Burketown, almost 1,000km south-west of Cairns and with a population of around 1,400 residents, Doomadgee is home to a very young community with 64.8% in primary education.
Cowboys Chief Community and Government Relations Officer Fiona Pelling said despite the geographical distance between Doomadgee and Townsville, the ties between club and community grow closer.
"The Cowboys' relationship with Doomadgee is unique and built on a combination of give and take between both parties," she said.
"Working closely with Doomadgee State School and Doomadgee Aboriginal Shire Council allows us to extend a hand of support to the whole community including students, families and staff.
"We're committed to supporting positive outcomes for the people of Doomadgee through meaningful community engagement while remaining culturally aware and respectful to the traditional owners, the Gangalidda and the Waanyi people.
"While they have welcomed us into their community, they have also entrusted us with many of their young people who join us at NRL Cowboys House to access secondary education opportunities in Townsville."
Ahead of this year's final visit to the region, we take a look at how the Cowboys and the Doomadgee community are working together for positive change.
---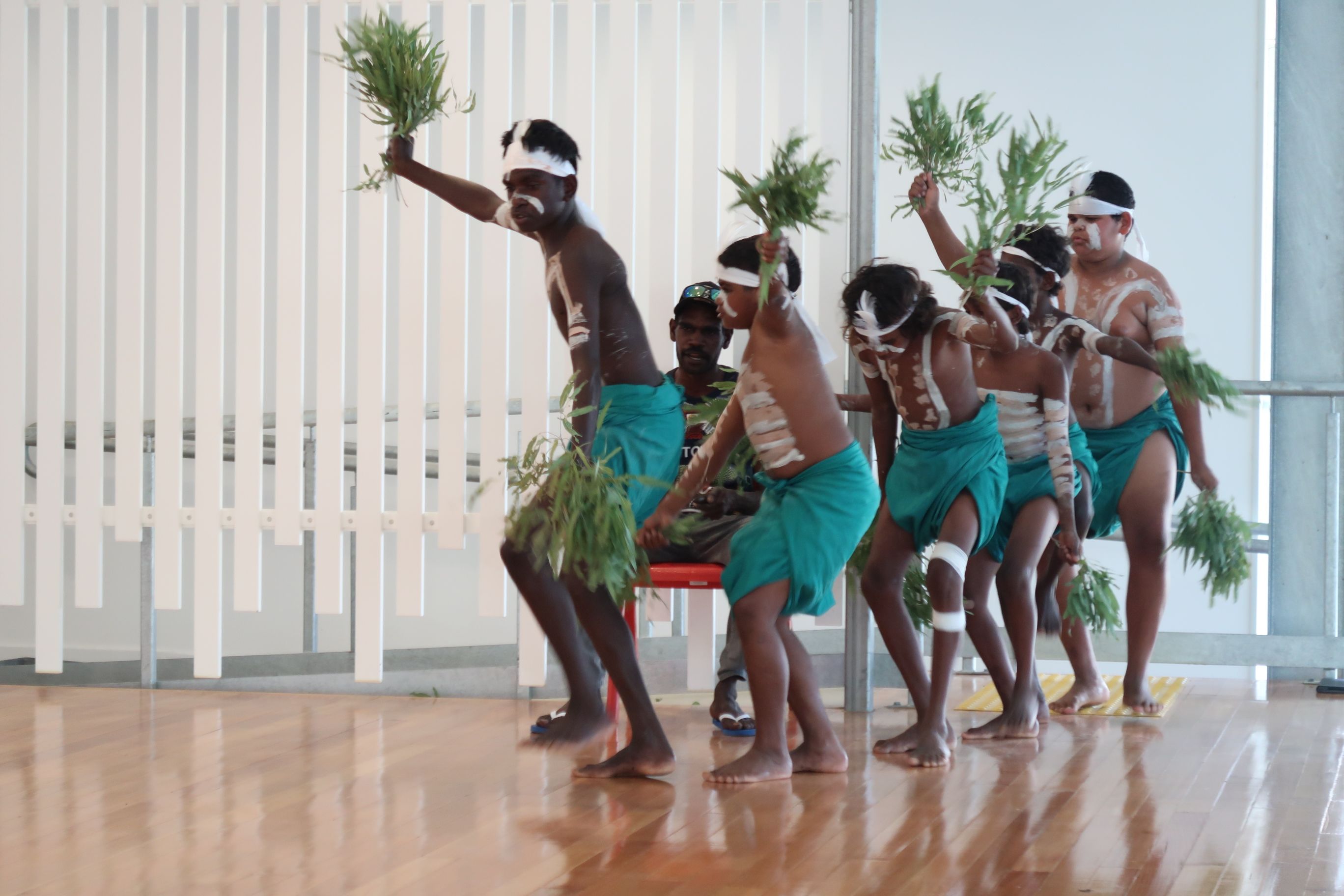 Tackling attendance with Try for 5!
---
The Try for 5! program was first rolled out at Doomadgee State School three years ago with the support of the Queensland Government to achieve the short and long-term benefits of consistent school attendance.
More than simply encouraging students to turn up to school five days per week through incentivised strategies, the program creates a lasting legacy at Doomadgee State School through improving life outcomes for young students and helps them establish a brighter future.
The program has been specifically tailored to the needs of the Doomadgee community with the school taking part in its own intra-school challenge, due to its remoteness.
Try for 5! was funded by Minister for Communities and Ministerial Champion for Doomadgee, Coralee O'Rourke under the Queensland Government's Champions program, before being renewed for a further six months by current Government Champion for Doomadgee, Bob Gee to see out the school year.
The Champions program helps to connect Government Ministers and senior executives with communities to help improve Indigenous outcomes, with the funding opportunity closely aligning with Try for 5!'s education-based outcomes and goals for Doomadgee.
The Cowboys worked closely with the State Government and the school to ensure the program would have a positive effect on increasing attendance at Doomadgee State School and add sustainable value to the community driven outcomes.
Since the program was adopted, the Cowboys community team have made regular visits to the school to reinforce messages, while also sending personalised videos from ambassadors including NRL Cowboys House career transitions mentor, Antonio Winterstein, supported by Waanyi Joint Venture and community engagement officer Matt Bowen.
School visits from Bowen and program ambassador Antonio Winterstein acting as role models for young Indigenous students are providing enormous credibility to the program within the community.
Doomadgee State School principal Beth Everill said connecting families through their passion and interest in the Cowboys has built trust in the program.
"We have developed strong foundations with Try for 5! in our school through that consistency of the program," she said.
"Such consistency removes uncertainty, which leads to trust in the school and within the community. The adult community respects and relates to the program because of the Cowboys ambassadors who they see as family.
"Try for 5! has allowed the school to continue to build positive relationships with the wider community, and while attendance fluctuates due to a number of factors, Try for 5! allows us to have a constant message across all our service providers."
Program resources add to the value of Try for 5!, with attendance charts, ladders and branded merchandise as prizes, adding tangible support for the program.
Doomadgee State School remains one of the Cowboys' most proactive and committed partners in the Try for 5! school attendance challenge.
---
Removing distance as a barrier at NRL Cowboys House
---
Doomadgee has a strong representation at NRL Cowboys House, with eight of their students currently pursuing secondary education while based there.
Several are now moving on to further education, training and employment opportunities as a result of their time at the House.
One of this year's 13 NRL Cowboys House graduates, Doomadgee teen Chad Taylor will continue in his automotive apprenticeship post-school, following the path his brother Eli tread last year.
Assisted by the House Transitions team, supported by Waanyi Joint Venture, the brothers are just two examples of the many success stories at NRL Cowboys House and are becoming role models for other young people within their community.
Both Eli and Chad have already expressed a desire to one day return to their community to ply their trade and show others what's possible.
In 2020, a group of students from Doomadgee State School made a special 1,200km journey to NRL Cowboys House as part of their Try for 5! rewards, while enjoying a week of sightseeing and relaxing in Townsville.
The group of eight students showcased their dance skills with a special performance and brought a taste of Doomadgee culture to the House.
NRL Cowboys House is looking forward to welcoming its Doomadgee students again in 2022 and helping them on their way to becoming future leaders of their community.
---
Traditional Doomadgee gift showcases connection
---
The cultural gift exchange between the North Queensland Cowboys and New Zealand Warriors before their Round 12 NRL Indigenous Round match at Queensland Country Bank Stadium presented an opportunity for a special piece of Doomadgee culture to grace the national stage.
A unique didgeridoo designed by students from Doomadgee State School was presented by Cowboy Jordan McLean for the 2021 gift exchange, an important tradition for the club and an important aspect of Aboriginal and Torres Strait Island culture.
The didgeridoo was made with timber collected from Lawn Hill in North West Queensland, the home of the Waanyi people who have occupied the land for over 17,000 years.
The land is traditionally known as Boodjamulla, the rainbow serpent country.
The didgeridoo exemplifies the relationship formed between the club and Doomadgee community through various programs, with the inclusion of the unique piece in the pre-game build up, a symbol of the Cowboys' commitment to Doomadgee and its wider footprint across the whole North Queensland community.
The relationship is highly valued on both sides, with the didgeridoo a representation of the symbiotic relationship that exists between club and community.
In return, the New Zealand Warriors presented the North Queensland Cowboys with a Patu, a weapon favoured by toa (warriors), symbolising strength and courage and given as a mark of respect to show the esteem in which one is held.
---
'Make the Choice' Jab Campaign
---
The Cowboys were proud to join North West Hospital and Health Service and Regional Express (REX) in early October to help improve COVID-19 vaccination rates among Indigenous people through the Make the Choice campaign.
Cowboys personalities travelled to Doomadgee and Mornington Island to encourage residents to get the jab, as vaccination rates for Indigenous people fell to just half the vaccination rate of non-First Nations people.
Along the way, the Cowboys ran into Doomadgee local Denley who had his COVID-19 jab as an example for his son Tyrique, whom Denley hopes will one day have an opportunity to attend NRL Cowboys House.
Doomadgee residents connected with former Cowboys Matt Bowen and Antonio Winterstein for a free sausage sizzle and Cowboys merch giveaway, attracting hundreds of locals to the vital initiative.
The visit provided an opportunity for the club to lend its support to increasing vaccination rates for the improved health and wellbeing of Indigenous people in remote locations.
Cowboys young gun Hamiso Tabuai-Fidow is continuing the push for Indigenous Australians to get the jab, putting his profile behind campaigns to increase education and vaccination rates among some of North Queensland's most vulnerable residents.
Strong involvement in the Make the Choice campaign displays the club's commitment, responsibility and willingness to tackling social issues in remote communities like Doomadgee.
---
A commitment to community
---
The North Queensland Toyota Cowboys and the Cowboys Community Foundation work in partnership with the whole North Queensland community to deliver programs that play an important role in building a healthy and inclusive region.
Our final visit to Doomadgee in 2021 as part of Doomadgee State School's awards night shows the Cowboys commitment to supporting the remote community through their journey from program support to final outcomes.
The North Queensland Toyota Cowboys look forward to celebrating the great success of Doomadgee students and people not only in the first week of December but for many years to come.
---